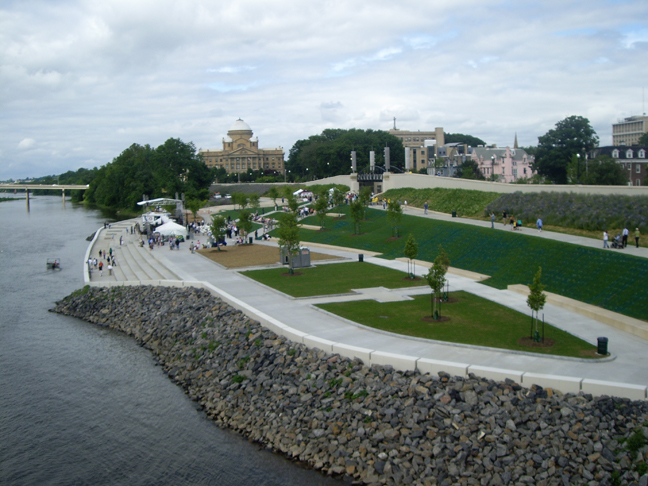 Wilkes-Barre, Pennsylvania. Photo courtesy of Sasaki Associates
• "The River Common" Dedicated in Wilkes-Barre. A handsome public park and garden now line the downtown portion of the Susquehanna River where continuous flood walls would have been erected. During a Waterfront Center community planning workshop in Wilkes-Barre in 1999, townspeople became aware that in Augusta, Ga., the Army Corps of Engineers allowed a flood gate in that city's flood wall. The gate, kept open except during floods, allowed citizens access to the river, where a handsome public park was built. This inspired the Luzerne County Flood Protection Authority to seek a similar approach. Two 60-foot gateways were established, with a levee wall walkway bridging each. The park was dedicated in June 19, 2009, part of the Wyoming Valley Levee Raising Project.
The Times Leader, June 20, 2009.
• Miami River/Working Waterfront Dispute. A classic clash of values along the Miami River – residential uses vs. working port – is headed to mediation in October. Triggering the fight was a decision by the Miami City Commission to change the river's designation from " Port of Miami River " to "Miami River Element" in the city's plan document. The Planning Advisory Board objected, as did the Miami River Marine Group, the industry/port trade association. If mediation fails, the case goes before an administrative judge. Changes in the city's land use plan in 2007 allowed for large-scale residential development along the river. This clash was foretold in a chapter on the Miami River in "Caution: Working Waterfront, the Impact of Change on Marine Enterprises" written and published in 1985 by the Center's co-directors, Ann Breen and Dick Rigby, available to members for $6.00, non-members $12.00.

www.miamitodaynews.com, July 22, 2009
This is also from our Summer 2009 newsletter found on our website.